iPROD
iProd Mail Production & Database Processing Software is developed to enable absolute document integrity, piece by piece tracking, comprehensive mail processing reporting and full network connection.

By using a simple mailing file each job can be audited from the creation of the Laser print file to the individual mail pack in the Mail Tray. The process may involve a single or multiple high speed intelligent inserting systems, running varity of jobs on-line.
Request more info…
iTRACK
iTrack is designed for flexible integration with any media processing system, such as inserting, poly wrap, laser printers etc. iTrack is able to provide end-of-process job monitoring, verification and reconciliation by generating comprehensive reporting.

The principle of operation is based on the reading and checking of each article passed through the media processing system. If an error is encountered, the media piece can be diverted into an integrated divert bin or alert and stop the system ("Hold-Verify-Divert" principle - *Patent).

iTrack can operate with a wide variety of reading technologies and codes, e.g. 2-D code, 3-of-9, 2-of-5, 4-state, Postnet, OCR, DataMatrix etc as well as image recognition.
Request more info…
ILCOM 7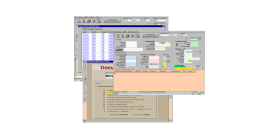 ILCOM (Integrated Logic Computer) is File Based, Automated Document Integrity Tracking and Processing solution. It provides features for reading, tracking, recording of and reporting on completed documents through the operating system.

ILCOM is both a hardware and software solution, scalable to meet the specific requirements of each customer. ILCOM manages both the local system level as well as the network level. It delivers the highest levels of integrity of the mail piece.
Request more info…